The National Library of Sweden
The Natio­nal Libra­ry of Sweden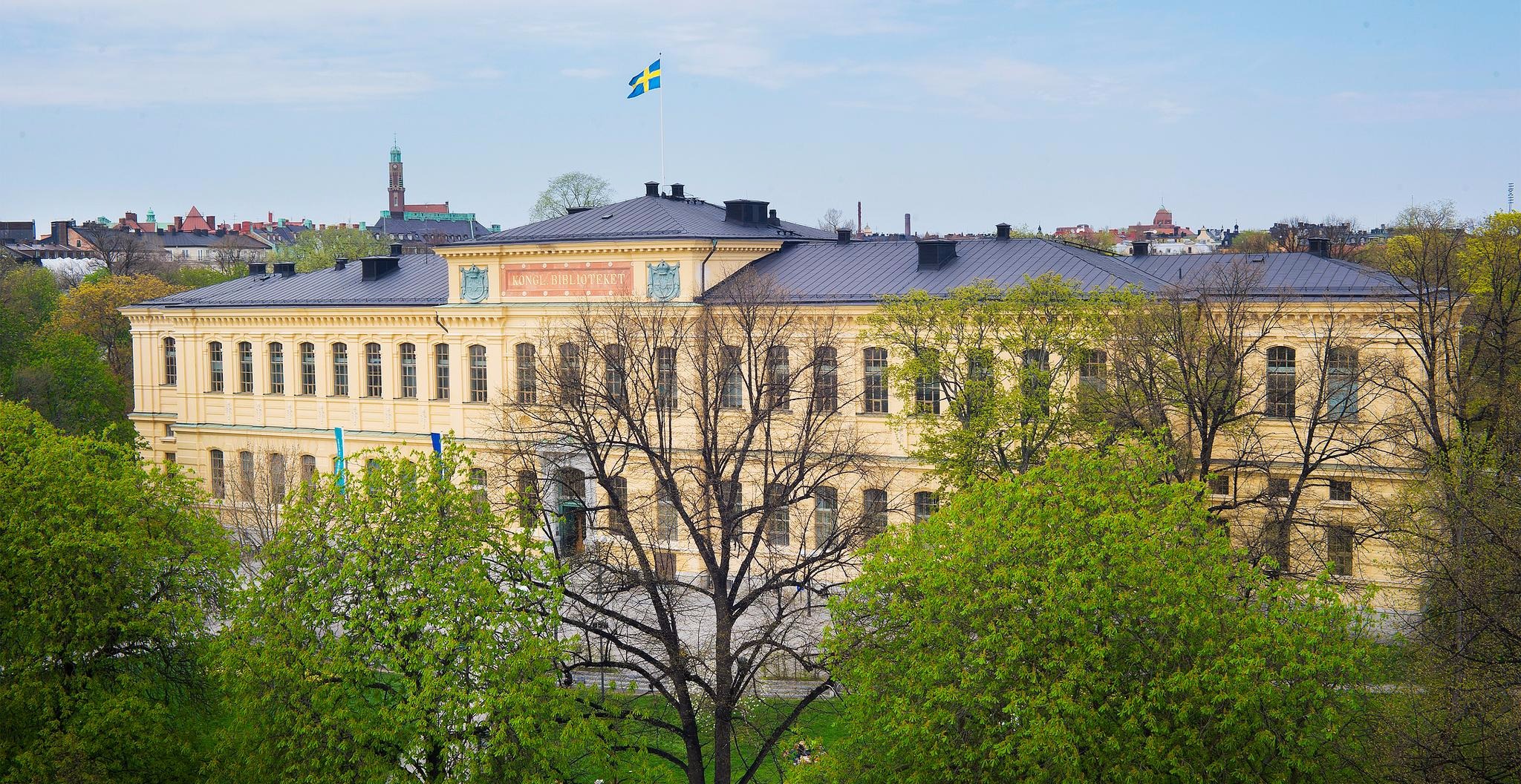 Kungliga biblioteket is the National Library of Sweden. Our collections extend more than a thousand years back in time and are growing daily.
We collect, preserve and give access to almost everything that is published in Sweden – from manuscripts, books and newspapers to music, TV programmes and pictures. The National Library (Kungliga biblioteket, KB) is a government agency under the Ministry of Education, headed by the National Librarian, Karin Grönvall.
From censorship to cultural treasure
In 1661, Sweden introduced a legal deposit act. It required all printers to deliver one copy of their material to KB. Initially, the act was an instrument of censorship, a way for the state to control its citizens. Today, it helps us preserve Sweden's cultural treasure.
In the late 1900s, the act was expanded to include sound, moving images and video games. The electronic legal deposit act was added in 2012.
Our ever-growing collections currently hold over 18 million items. Most of these are stored in underground storage rooms.

More than just Swedish
We are also a research library in the social sciences and humanities. This is why our literature spans a variety of languages on topics such as history, sociology and art.
In addition, we collect foreign material with a Swedish connection. These include translated books, games by Swedish producers and films about Sweden.
A source for independent research
We do not evaluate or screen the material we collect. Everything is saved as it is, regardless of form or content. This way, we support and stimulate independent research, for today and for future generations. Our mission is ultimately to aid democracy, equality and the freedom for everyone to form their own opinion.
We promote collaboration and development
KB is also tasked with promoting development and collaboration within the Swedish library sector. In the national library strategy for Sweden – adopted by the government in April 2022 – the National Library is identified as a key actor in the work to strengthen the library sector.
Among other things, we collect Sweden's official library statistics, detailing the books, films, and activities at libraries throughout the country. We also coordinate work with open access to scientific publications. The aim is to make tax-funded research freely available to read, download and distribute.
In addition, KB administrates and develops the Swedish national library catalogue, Libris. It contains ten million titles – books, newspapers, magazines and pictures – from about 500 Swedish libraries.

International collaboration
KB also collaborates internationally, in many different forms and on different levels. Certain international collaboration is crucial to our operations: metadata, classification, standards and EU laws, which are a part of an international framework. This also goes for our work with national minorities and the indigenous Sami.
Other types of international collaboration is about keeping up to date about international development and giving KB a voice in international contexts. For example, KB is involved in IFLA, the International Federation of Library Associations and Institutions;
External link. LIBER, Ligue des Bibliothèques Européennes de Recherche – Association of European Research Libraries
External link.; and NAPLE, the Forum of National Authorities for Public Libraries in Europe
External link..

Everyone is welcome to KB
Most of KB's visitors are students and researchers, but everyone is welcome here. However, you must be over 18 years of age to get a library card. Most of our Swedish material needs to ordered in advance and studied on site in the library. Many of our foreign books can be borrowed for study at home. If you are not a resident of Sweden, special rules apply for home loans. Our staff will be happy to help you.
Contact us
E-mail: info@kb.se
Telephone: +46 (0)10-709 30 00
Visiting address
Humlegårdsgatan 26, Humlegården, Stockholm